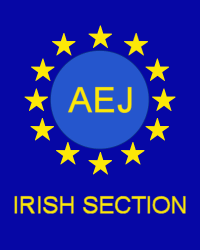 Welcome To The AEJ Irish Section
Welcome to the home of the Association of European Journalists Irish Section on the web
The AEJ is an Independent Association
We are for journalists, writers and specialists in European affairs. We host guest speakers, organise seminars and special events.
Professional Members
We are proud to bring together some of the finest minds in journalism and media
Great Events
We host great events with respected and distinguished speakers
Networking
Our seminars and events inform debate and provide unrivalled networking opportunities for our members and guests
What's going on in the AEJ?
The Minister for Transport, Tourism and Sport, Shane Ross TD, will be our guest speaker at the opening lunch of 2017 which takes place on Monday, 30th January, 2017, at Buswells Hotel, Dublin, 12.45pm sharp. The lunch costs €30 and please note that, in addition,...
Contact us today
Reach out to us
Contact
A selection from our photo gallery